ECO PLANK DECK

New!













| | |
| --- | --- |
| | Choose Your Favorite Rustic Stain |

| | | |
| --- | --- | --- |
| | Decorated 4'x4' Eco Panel | |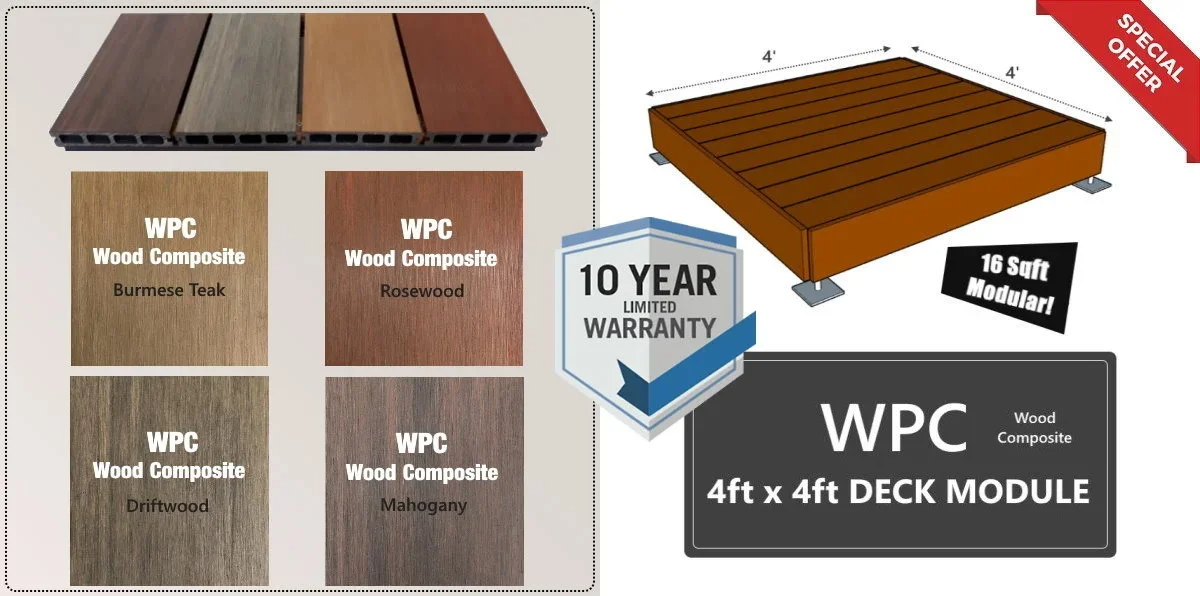 | | | |
| --- | --- | --- |
| Genuine Belian Hard Wood Deck | WPC Wood Composite Deck | Decorative Eco Panel Deck |
FAQ 1: What is the difference between DECORATED ECO PANEL and DECORATED ECO PLANK?
Both decking surfaces are made from durable and weather resistant eco-friendly fiber based boards. With a touch of color wood stains, we can create an amazing rustic effect. Eco panels are flat surface 4ft x 4ft panels with a series of perforated holes (optional hole diameters) to allow water drainage in order to prevent pooling. As for Eco Planks, they make use of the same fiber boards but thicker. Instead of drainage holes, horizontal grooves are then machined onto the surface, so that it visually looks like a series of wood planks. And that wood plank effect is more apparent after a round of skilled wood staining. The horizontal grooves also allows for water drainage.

FAQ 2: What is the difference between LEG BRACE build and FRAME BODY build?
The Leg Brace architecture is a simplified version of our Frame Body modular deck platform. Both builds have adjustable height legs. With Frame Body, it is a complete frame structure essential when needing to individually attach separate wood or wpc planks. It's frame is sturdy enough to allow for stable deck elevation up to a few feet high using leg plug-in attachments. In addition, if you need to add a required handrail protective barrier due to an elevated deck height beyond 2.5 feet, our Frame Body kits come to your aid. For our Leg Brace configuration, it does away with all the heavy duty applications just mentioned. It simply allows a no-fuss casual deck installation on any type of ground.