NEED A VERSATILE EXTERIOR FLOORING SYSTEM?




If you are a renovator, contractor or designer and would like to order stripped down versions of our deck modules, that can be arranged too. This gives you the flexibility to use your own choice of joist or deck surface material, whilst still enjoying the modular functionality that our deck sub-structure offers. Not to mention the time and labour you can save on site.
For deck surface, prefer to have pre-fabricated 4'x4' portable parquet style deck panels? Simply place each 4x4' pre-fab panel onto your deck module, screw on at designated points and you're done. For those who prefer the clean and attractive look of long deck boards, simply screw on the entire length of the deck boards one by one. You are fully in control.
Need to trim the dimensions of various deck modules according to the shape perimeter your landscape? Not a problem too. Simply cut the deck module to desired length using common electric cutting tools such as a hand held angle grinder (shave off galvanized coating first). Then weld back and paint over using aluminium paint or similar for rust protection.
Our sturdy galvanized steel sub-structures (rust-protection) comes with complementary height adjustable legs. As well as leg extensions and balustrade brackets add ons. We offer 3'x3', 4'x4' and 8'x8' deck modules.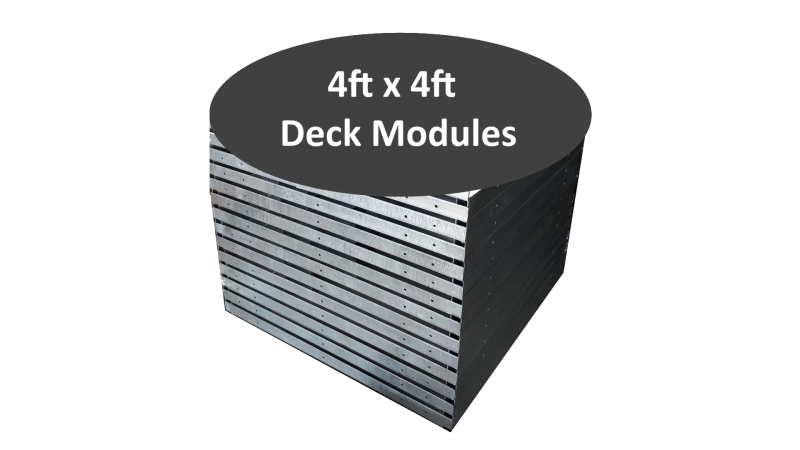 Please contact us to learn more or visit our showroom.
*Minimum quantity orders apply.